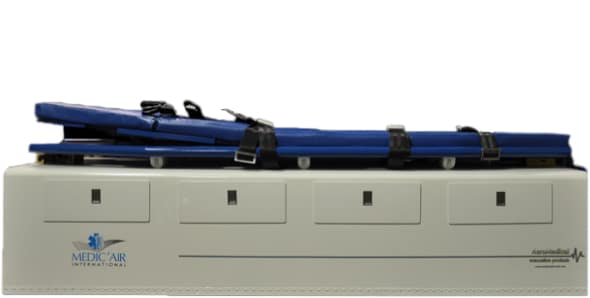 The MedStar features everything our classic series offers, but with added improvements. Built with weight in mind, our engineers crafted the lightest aircraft medical bed in the industry. The MedStar has also gained a user-friendly accurate digital control.
"MedStar" air ambulance system is the only equipment that complies with the 21g dynamic load requirements of 14 CFR Part 23.562/14 CFR Part 25.562 amendment 64.
Featured on both MedStar & Classic series
True 10-minute installation and removal

Designs that fit small floor-to-ceiling height aircrafts

Optional custom bases with drawer or shelf storage capacity
115 – 230 vac inverters

330 – 1500 watts

Two or four electric outlets on the face or end cap of the base unit

Simple wiring to the aircraft's electric bus

Lighted On / Off switches or Optional Digital Display

Circuit breaker protected.

The Wiring Kit brings power from the aircraft's electrical system to the cabin to connect the Medstar or Classic base unit inverter. 
Remote fill port either on the face or end of the base

Secured oxygen cylinders with capacities of 3500 to 10000 liters

Easy to read Oxygen Remaining gauge

Oxygen outlets; flow meter receptacle, 50 psi DISS, special order outlets

Optional European High-Pressure cylinders and plumbing

Optional Kevlar tanks available
Pumps are seperate from inverter operations & are wired for 28v

Vacuum pump makes 20 inches (508 mm) Hg of suction at 3.3 amps

Compressed air pump delivers 19.8 liters per minute at 3.3 amps

Convenient lighted On / Off switch

Medical gas outlet

Circuit breaker protected
Stretcher is built from honeycomb and tubular steel
Mattress is fire blocked and covered in a very durable fabric
Mattress padding is available from 2" thick to 6" thick
Stretcher locks into the base unit the same as car doors close & lock
Four point upper torso harness and lap and leg belts
Stretcher is tapered head and foot, preventing scraping the aircraft doorseals and side walls
Extra wide stretchers available for larger patients
Up to four drawers or shelves in a base unit with locking assembly
Lip and curtain restraint
Overhead and vertical Patient Care Centers
Outlets for air, oxygen, vacuum and electrical
Flexible LED lighting to assist with patient care
No across the patient cables
No across the stretcher platform inhibiting stretcher loading and unloading